TMNSP 003 – Finding my Niche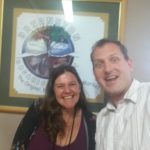 Episode 3 has arrived! After a little creative angst, and a bit of a time delay I finally managed to get this wonderful podcast jam packed with interviews up online.
I visited the Bryanston Organic Market last Thursday and met with four incredibly interesting stall traders and rounded off the day by trying some great pizza from a Stall owner of 38 years.
This episode is about finding your Niche and we look at how you can start the process of getting involved in the Marketplace. The insights I learned from the stall traders were amazing on this visit, and really proves that everyone from any walk of like can make the marketplace their own.
Hope you enjoy the episode and if you can, please give a 5 star rating on iTunes and Like the Facebook page. Each helps to raise the profile of the show and help other people progress.
[tweetthis] Listen to Episode 3 of #TheMarketNoshShow podcast. [/tweetthis].
You can see a lot more of the photos on Instagram from my time at markets so take a look to at the people I am meeting and interviewing.
In order of appearance on the Show:
Shaun Webber – Jozi's Nut Butters (www.jozinutbutters.com and also on Facebook and Twitter)
Peter Mack – Mack Daddy's ([email protected])
Sunny and Bones – Sugarbush Organics (Instagram and [email protected])
Colins Kobe – Kobe Handmade Jewellery ([email protected])
Dianne Bayne – Pizzazz – ([email protected])
Thanks for taking part in the interviews and thanks also to the Bryanston Organics Market.