TMNSP 002 – Is the Marketplace for Me?
Welcome to the Second Episode of 'The Market Nosh Show'.
YES really the second episode. I am thrilled with this one as I managed to interview my first market stall traders on the mic and get the podcast up and running smoothly.
In this episode I talk about Lesson 2 of How to Start a Market Stall, looking at how it impacts your life being a market stall trader and what you should be starting off with.
I interview two very accommodating stall traders from the Hillfox Flea Market in Roodepoort, Johannesburg South Africa. They have some amazing advice to get you started and learn about their concerns too.
At the end of the podcast I try out reviewing some food in a segment called 'Food on the Move' and will need to polish this a little further. The traders selling these tasty delights were a little shy, so I wasn't able to get much in the way of audio this time round.
I would like to mention Washington, who was my first ever interviewee. Dude you rock and really gave me some great information. I wish you all the best.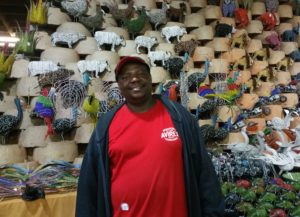 My second guest was Clive Rupiya, who is an artist creating wire models of animals and birds or whatever you like really. You can reach out to him on Twitter here @cliverupiya.
If you enjoy the show I would really appreciate a 5 star review over on iTunes or Soundcloud. It really helps the show and will of course boost my confidence.
I would love to hear from you so email me at [email protected] and if you would like to be part of a community of Traders why not join the Market Nosh Costers Facebook group.
Thanks for listening