Learn How to Start a Market Stall
You've had this idea that having a market stall to sell fresh local produce is the way you want to start your business, or as a long time crafter you want to sell your products to the public.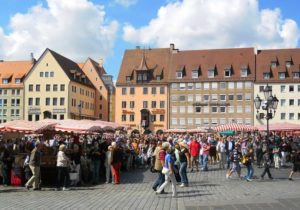 Whether you have your sights set on being a distributor or the all-in-one crafter marketer, knowing how to start and where to begin is going to set you on the right path to being successful in your market stall business.
Tesco didn't just appear overnight, it started in the market place, the same way you are thinking about starting out. Sir Alan Sugar, wasn't an overnight success, from going to bed and waking up as the Boss on The Apprentice. He began selling from the market place!
We, at Market Nosh, are going to go with you on your journey. Leaving hints and tips and a basic framework along the way. You're going to fill in the blanks and develop your business and with a little luck, we'll be featuring your story here on the blog in the not too distant future.
All the best and let us know how you are getting on over at the Market Nosh Coster Facebook group.
Module 1: Asking the Tough Question
Understanding where markets come from and why they are important to us is key to knowing what your focus will be. There are many forms of the marketplace and not everyone will suit your style or your personality. Let's begin by asking the Tough Question.
Module 2: Know Your Stuff
You are well on your way by now to have chosen your marketplace and what type of products you are going to sell. Lets take a look at what you need to focus on while in the Marketplace. There is always a little red tape and being aware of it will go a long way to avoiding disappointment and lost sales opportunities later on.
Module 3: Some Basic Planning
Module 4: Finances
Check back soon as the How to Start a Market Stall Course develops more modules will be listed.