Lesson 3: Essential Starter Equipment for the Market Stall
There are many ways you can trade on the market stall. The cheapest method, get a cardboard box and place your items on the box. Job done! But you didn't come here for that advise…
The way you present your products that you have carefully selected, is vital to presenting your stall and business to customers. Throw everything in a pile on the table and you will be attracting buyers who want the cheapest deal because they can see you aren't bothered.
We will be looking at what a typical Market Stall looks like, starter equipment and the way you can improve perceptions by presenting your stall right.
To find other lessons click How to Start a Market Stall.
The Setup
The traditional market stall today generally is a metal frame structure with a canvas stretched over the top and sides to enclose the stall. There have been plenty of designs in the past and in many countries today they still exist…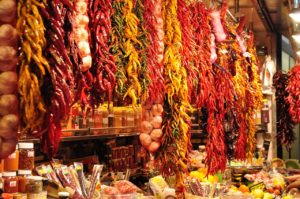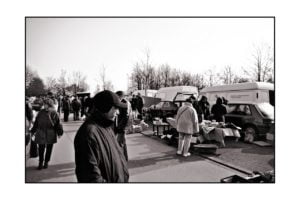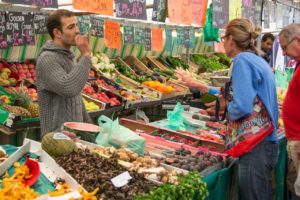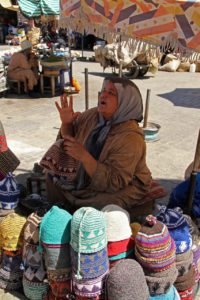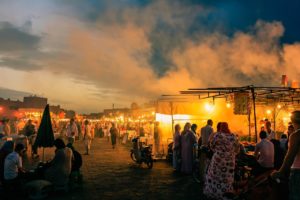 These are just a few of the layouts for a marketplace. Many possibilities and locations, so how you present yourself is vitally important from the start! It is essential starter equipment that is required.
The Typical Market Layout
Today in the UK and in Europe the traditional market is to have your products and produce laid out in a way which potential customers can see at a glance. The stall is your shop window and you need to draw folks in to view what you have on offer.
If your stall is dull, or your products hidden behind fancy display cabinets most customers will wander past and not even know what gems you have.
EXAMPLE TIME
Imagine I wanted to sell you my handmade bracelets. They sell well on Etsy but somehow whenever you come to the market they do not sell at all. I have put a lot of effort into my display.
I have mannequins, pictures displaying the bracelet and articles for others to read. The materials it is made from are on display. I even have customer reviews and business cards for the online shop. Why don't they sell though?
Clutter! A passing potential customer only offers you a few seconds of their attention. Their eyes scan your stall and their mind needs to make a decision… "Do I need any of those items?" "Are any of them shiny and make me feel excited by them?"
Changing Perceptions
How you are perceived is the crux of your market stall. What can I do with a few seconds of a passerby's attention? What do I need them to focus on!
You have no doubt seen many ways in which market costers sell their items. They may be shouting offers out, there may be music to cause people to look, they may be out meeting and greeting people as they walk by. Each method is employing a little tactic that uses the attention of a person a little more to focus on the products on offer.
In the example above, if I walk by and glance at the stall and I see lots of written text and a mannequin I may misinterpret what the stall is for. Perhaps you sell mannequins. Remember I only have seconds that I am dedicating to your stall and it needs to be focused.
Essential Starter Equipment
If you are going to sell in a marketplace on a regular basis then you need some items as a matter of course.
The main item is the display stall. Ask yourself first where you are going to be selling. Are you indoors or out? Will you be going to different venues to sell your products and if so will there be different arrangements required?
If you have rented a space in a marketplace then you may be entitled to a table or tent as part of the rent, but more than likely you will be given a number to the location of the floor space your market stall will occupy. There you will be greeted by a set of dimensions that you are "allowed" to set up on and use. No more – sometimes less…
The Average
The average size market stall depends on the location. It may be that one marketplace only allows pitches of 6ft (1.8m) whereas you may find another location offering a more generous space of 12ft (3.6m).
In planning your stall, take into account what you are selling too. A jewellery stall will require far less space than a fruit and veg stall. There is no point having a 12ft table and using only 3ft of it to display your products. It will look empty and drowned out!
Plan for 6ft initially and then you can always build from there. A value (new) market stall at 6ft by 3ft will set you back around £125.44 from Amazon (Tansley Trader Standard Market Stall 6ft x 3ft (1.8m x 0.9m)).
There are no sides and you will not be able to hide behind the table either, forcing you into the public and your soon to be customers. From here you can build your display with nicely wrapped cardboard boxes and as you progress you can purchase sloping displays and hooks.
The Gazebo
You may find some market traders using a simple gazebo with some folding tables to display their products. This too is perfectly fine and as long as you are within your 6ft bay you are covered! They also offer some protection on the sides too, to keep you a little warmer and dryer in the cold and wet.
For a starter gazebo you could look to buying Airwave 2 x 2 m Beige Pop Up Gazebo, Fully Waterproof, which comes with side panels too!  It will take a little getting used to setting up and taking down so practice in the garden or local park first. Getting this right will avoid a lot of time wasting when it comes to market day. The faster you set up the sooner you get to start selling!
The Hartleys 6 Foot Folding Table is a durable table that will support the weight of bulkier items. These tables are 6ft exactly and utilise the whole space available to you on the average stall. They will also take quite a beating with all the in and out of the car, setting up and dismantling. No bad for an item that needs to be used all over the place!
For a light display, some market traders use a Wooden Hardboard Folding Wallpaper Paste Pasting Table. These are cheap initially, but will cause you issues later down the road. A customer may lean on the centre of it or it may collapse under a relatively light load. (Tip: Remember to put your plastic containers under the middle to support it in case someone leans on it or it collapses for no reason.)
The reason so many people use them is for their compact folding ability and the small storage space between the undersides. Great for small necklaces and bracelets or cards.
The Decoration
Have your table covered! That shows a little more finesse and that you really care about how your stall appears to others. The BLACK spandex stretch cover tablecloth for 6ft foot table is one way to go. It is flat fronted and open at the back so you can easily store your boxes under the table and have access to them with ease.
The reason these make such good investments is because they don't blow around. A table cloth or dust sheet works fine until someone stands on a corner or the wind gets up. With this easy stretch cloth, your stall looks neat from the start and for very little extra outlay!
Brown paper like the Ambassador 500x25m Kraft Paper Roll, comes in handy for covering old shoe boxes to give a clean looking display. But you can mix it up with festive Christmas paper or a themed wall paper you buy in a sale at a hardware store.
Finally, how are you going to allow your customers to leave? Will you be placing a flyer or business card in with their purchases, directing them to a Facebook page or email contact address? What about the way you give the product over? Plastic white bag or decorative box? Will you be offering a wrapping service for a customers to take away there and then as a gift?
Buying Secondhand
The secondhand market is certainly a place to start if you know what you are looking for. Although we will always say first – can you buy it new?
By purchasing something new you normally have a warranty and you will have the full length of use from the item. Sometimes buying secondhand give a false sense of economy as you end up having to make running repairs and create add ons to make it work properly. That normally brings it up to the cost of a new purchase except you have now outlaid for a system which is old and worthless.
Conclusion
There are so many options to make your stall stand out and get people coming back again. Each little add on will cost a little more and you will need to factor in the expense into your prices, but if you go above and beyond you will always have happier customers. People come to the market for a good deal, but equally they have come for the experience they cannot get in a supermarket!
Getting set up can be as easy as making some items at home and selling them from the boot of your car. For a small initial outlay, the market stall trader that is going to start their business off in the marketplace should consider perceptions, and some essential starter equipment that might make all the difference.
Looking forward to seeing you in the Facebook Group, Market Nosh Costers, to discuss your thoughts and ideas on the topics mentioned above. Want to be really daring? Share a goal with us that you are going to achieve!
See you for the next lesson: What's my Niche?
Quick Quiz
How large is a typical Market Stall stand in the UK?
What is the crux of a market stall?
Why is choosing secondhand equipment not always a wise move to make?