The Market Nosh Free App
A Re-Think On Food Use
The Market Nosh App was designed to fill a need, a gap in the local produce marketplace. There are so many places where fresh locally sourced food can be bought and wonderful new recipes tasted and enjoyed, but no central place to find all that information.
Then there is the humble allotment owner with a bumper crop who just wants to give away their lovely vegetables to anyone who will take them.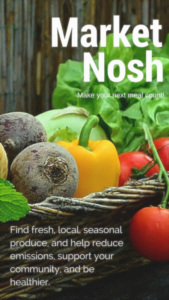 Enter Market Nosh!
The free app is a sharing platform on which you can find local Farmers Markets near you. You can post up and coming events and even advertise your own fresh produce or Farm Stall, right from the arm chair in front of "Strictly Come Dancing".
What do you get with the app:
Search by categories or market place
Store your favourites in your own private space
Sort listings by title or location
Post your own advert, whether it be for a Full Market or,
A bumper crop where you want to sell/swap/give away the surplus
In a bid to reduce food waste, transport journeys and support local communities, Market Nosh is the App to bring that fresh local, seasonal food back on the menu.
Meet people who know their product, can offer you tips on cooking or introduce you to new foods you haven't experienced yet.
Download the FREE App Today
You can find the Market Nosh App on the App Store and Play Store.
It would be great if you could like the Facebook Page too to highlight the opportunity for fresh produce today. Use hashtag #eatrighttonight when tweeting or mentioning Market Nosh too. We would very much appreciate it.